15 May 2022
Cover Image
Image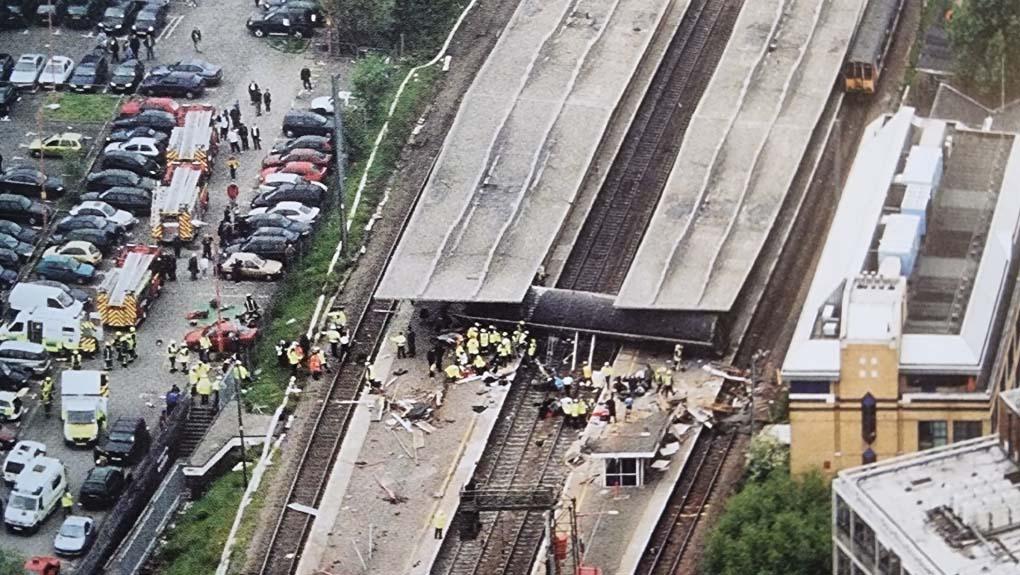 Components
10 May 2002 was a normal Friday afternoon. I was conducting routine work as a HM Railway Inspector (then part of the Health and Safety Executive), but also thinking about the weekend ahead and my family commitments.
My mum was sadly seriously ill with cancer and I was due to travel from London to see her at home in Gloucestershire. And then the phone rang. 
At the other end was a senior manager in the inspectorate. He told me there had been an accident at Potters Bar, a train had derailed and seven people had lost their lives.
He said he wanted me to go there and that I was being put in Silver Command for our incident response. 
As I got off the phone and started to pack a "Go Bag" – they weren't standard issue at the time – all sorts of thoughts went through my head. 
Attending the scene of the incident
First, shock. Second, what do I need to do? And what do I need to take with me? Only two years had passed since being part of the initial investigation team at Hatfield.
I phoned the landlady of the B and B I was staying at and asked her if she could pick me up from the station so I could grab some items from indoors. She did and helped with putting together flasks of coffee, squash and paper cups for people to drink from.
I also phoned my mum to let her know I wouldn't be coming home that weekend. I remember the distress in her voice when she said: "But I need you here". I heard my brother say in the background: "Mum, they need him more". 
On driving into the scene, through the outer cordon, you could see the fire and rescue team working tirelessly to save lives and evacuate the injured.
Two of my colleagues were already present, and as I walked through the site it was clear just how serious this incident was. I continued to think to myself: How has this happened? 
I first made contact with British Transport Police – faces that I had seen before two years ago at Hatfield. 
A 40ft mobile operations centre arrived on scene at about 9pm, which had to be placed on the public road because space was limited. A police inspector told me to "drop it where you like, no one's going to give you a ticket".
As daylight faded, I left site about 11pm, returning around 7am the next day.
Vivid memories 
Numerous meetings happened with other parties involved to discuss what was happening, at one point we had 11 Inspectors working at Potters Bar, working long hours to collect evidence to understand what had happened.
I can also recall the media helicopters swarming above making it hard to have conversations with colleagues, which led to a no-fly zone put in place above Potters Bar. I also remember a lot of activity going on at the scene, the press were there in numbers.
On the Saturday, I vividly recall several Buddhist monks visiting the site, blessing it in memory of the deceased and injured. We all stood in respectful silence as they performed their ceremony. I can still clearly hear the sound of the tiny bells they rang as they walked through.
It never ceased to amaze me that a time of crisis how everyone came together, particularly local voluntary groups and local businesses who provided immediate support following the crash as well as all the different elements of the railway industry.
Investigation findings
The investigation found the Class 365/5 travelling at 97mph passed over a faulty set of points that allow trains to change from one set of tracks onto another. As the train went over them, the points moved to cause part of the third carriage and all of the fourth to derail.
The derailment caused carriage four to detach from the others and move onto the next line along where it flipped into the air, coming to a stop wedged beneath the canopy after crashing into the bridge parapet just beyond the platforms. 
The front three coaches ran on for around a quarter of a mile, notwithstanding full emergency braking, stopping 400 yards north of the station.
Our investigations found the cause of the Potters Bar derailment was due to the poor installation, maintenance and inspection of the facing points. Seven people lost their lives and over 70 were injured.
Jarvis plc - the private company responsible for the maintenance of the tracks - and Network Rail would be charged under the Health and Safety at Work Act. 
Key lessons were learned from this incident and 20 years on we're fortunate to still have one of the safest large railways in Europe, though cannot become complacent with safety. 
I'll always remember turning up to the scene and recall the professionalism of my colleagues and other emergency response teams and the kindness of local people.